2018 TRAIL Information 
Please visit the Total Retiree Advantage Illinois (TRAIL) Program page on the Central Management Services website for the latest TRAIL news at: https://www.illinois.gov/cms/benefits/trail/Pages/default.aspx
Who must enroll in TRAIL during the Open Enrollment Period?
The TRAIL Medicare Advantage Open Enrollment Period for the 2019 plan year will be October 15 - November 15, 2018.  
If you are a TRIP member and are eligible for Medicare Parts A and B before October 1, 2018 you must enroll in one of the TRAIL Medicare Advantage insurance plans offered in your county of residence in order to keep your health insurance after December 31, 2018.
In the fall you will receive a letter informing you that you must sign up for TRAIL if you want to continue to receive health insurance under TRIP.
All official TRAIL documents and forms carry the state's TRAIL logo.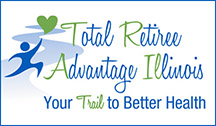 What if I'm already enrolled in a TRAIL health insurance plan?
You have two options:
If you want to make a change to your TRAIL health insurance coverage or add a dependent, the fall Open Enrollment Period is the time when you can make that change. 
If you want to maintain your current TRAIL coverage, you don't have to do anything. Your health insurance coverage automatically will continue as it is in 2019. 
What if I become eligible for Medicare Parts A and B AFTER September 30, 2018?
Your current coverage will not change at this time. You will be able to change your insurance coverage or add an eligible dependent to your current TRIP coverage during the spring 2019 Benefits Choice Period. You will have to select a TRAIL health insurance plan in the fall of 2019 for coverage that will begin on January 1, 2020.
What if I turn 65 during 2018 and I'm NOT eligible for Medicare?
You must provide proof of ineligibility from Medicare. You may enroll in TRIP coverage for the Age 65 Not Medicare Primary plan. You are not eligible to enroll in a TRAIL plan.
Is a TRAIL Medicare Advantage insurance plan still Medicare?
Yes. These types of Medicare Advantage plans, also known as MAPD plans, are Medicare-approved plans that combine the different parts of Medicare - Part A, Part B and Part D – into one plan. Since Medicare Advantage plans are a type of Medicare, you must continue to pay your federal Medicare premiums in order to remain enrolled in TRAIL.
I'm a TRS member, but my insurance is through the State of Illinois Group Insurance Program, not TRIP. Are there differences between the two programs?
Yes. If you are enrolled in the State of Illinois Group Insurance Program, here is a link to more information about the Medicare Advantage options available under that Program:
Link to the Total Retiree Advantage Illinois (TRAIL) Program